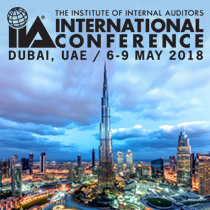 Registration is now open for The IIA's 2018 International Conference in Dubai, United Arab Emirates from 6-9 May 2018. The conference is themed Connect the World Through Innovation and will feature a world-class, technology-driven program featuring educational sessions led by industry leaders. Learn more: https://ic.globaliia.org/
Pada tahun 2018 ini, The Institute of Internal Auditors (IIA) Global kembali menyelenggarakan International Conference yang di selenggarakan di kota Dubai, Uni Emirat Arab, pada tanggal 6 – 9 Mei 2018. Tema yang dirumuskan dalam international conference tahun ini adalah "Connecting the World Through Innovation".
Sehubungan dengan hal tersebut, IIA Indonesia dengan ini mengundang Bapak/Ibu semua untuk bergabung bersama menghadiri konferensi internasional ini dan menyimak berbagai informasi terkini dalam bidang audit internal, manajemen risiko, pengendalian, serta teknologi informasi yang berkaitan dengan profesi. Selain mengikuti konferensi, kami juga akan menyelenggarakan on–site learning ke sejumlah instansi di UEA.
Pendaftaran dan informasi yang berkaitan dengan program ini dapat menghubungi Dewi Sekarsari di 021 – 83782174 atau 0812 905 787 08 atau via email ke dewi@iia-indonesia.org.