Dengan berpegang pada komitmen "Progress Through Sharing", IIA setiap tahunnya menyelenggarakan konferensi tingkat internasional, salah satunya yaitu ECIIA Conference. ECIIA Conference merupakan salah satu conference tahunan IIA yang diselenggarakan oleh IIA kawasan Eropa (ECIIA). Tahun 2018 ini ECIIA Conference akan diadakan di Madrid, Spanyol pada tanggal 29 September – 7 Oktober 2018. Tema konferensi tahun ini yaitu "Super Internal Auditors" yang akan membahas  topik mengenai Agile Auditing, The New COSO ERM, Future Challenges for Audit Committee, dan materi-materi lainnya terkait issue-issue terbaru terkait audit internal.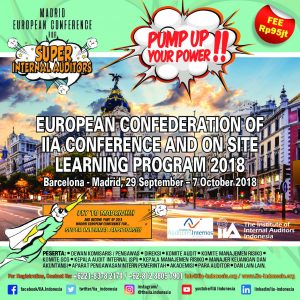 IIA Indonesia sebagaimana tahun-tahun  sebelumnya kembali mengajak Bapak Ibu para anggota dan kolega IIA Indonesia untuk menghadiri dan menjadi bagian dari Madrid ECIIA Conference and On-Site Learning Program 2018 tersebut, sehingga diharapkan dapat memberikan tambahan pengetahuan pengetahuan mengenai konsep-konsep terkini dalam  bidang audit internal, tata kelola, manajemen risiko, dan pengendalian. Selain menghadiri konferensi, kegiatan juga akan diisi dengan kunjungan ke instansi dan workshop.
Biaya paket untuk mengikuti kegiatan ini yaitu Rp 95.000.000,- mencakup biaya conference, tiket pesawat ekonomi, hotel single, workshop, dan on-site learning. Pendaftaran Madrid ECIIA Conference dilakukan paling lambat 4 September 2018 ke sekretariat IIA Indonesia, dengan menghubungi
Telp. +62 21 837 821 74 atau +62 812 905 787 08, +62 812 8805 7901
Demikian informasi ini kami sampaikan. Kami tunggu partisipasi bapak ibu semua dalam kegiatan ini.