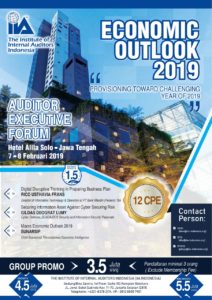 Sebagai upaya bersama untuk selalu mengembangkan profesi audit internal dan manajemen risiko, serta peningkatan peran audit internal dalam mendorong proses governance, manajemen risiko dan pengendalian internal, khususnya di era digital saat ini, IIA Indonesia pada awal tahun 2019 ingin mengundang seluruh auditor internal untuk bersama melihat dan membahas prediksi perekonomian di Indonesia dan dampaknya bagi internal auditor, bersama dengan narasumber yang sangat kompeten dalam Audit Executive Forum dengan tema Economic Outlook 2019: Provisioning Toward Challenging Year of 2019.
Acara ini akan mengundang Rico Usthavia Frans (Direktur Teknologi Informasi & Operasi, PT Bank Mandiri (Persero) Tbk), Gildas Deograt Lumy (Cyber Defense, SCADA/DCS Security and Information Security Pasionate) dan Sunarsip (Chief Economist The Indonesia Economic Intelligence).
Acara Auditor Executive Forum tersebut akan diselenggarakan pada tanggal 7-8 Februari 2019, di Hotel Alila Solo, Jawa Tengah dengan harga anggota Rp 4.500.000.- dan non anggota IIA Rp 5.500.000,- . Kami juga menawarkan harga Group Promo Rp 3.500.000,- untuk pendaftaran minimal 3 orang dalam satu instansi. Biaya tersebut diluar biaya pendaftaran anggota. Peserta juga akan mendapatkan 12 CPE.
Untuk mengetahui informasi lebih lanjut silahkan menghubungi:
IIA Indonesia,
Bina Sentra Bidakara Bldg., 1st Floor Suite 103,
Jl Jend. Gatot Subroto Kav. 71-73, Jakarta 12870
No Telepon: (021) 8378 2174 / 0812 8805 7901.
Email: dewi@iia-indonesia.org / dita@iia-indonesia.org / pitoyo@iia-indonesia.org / marketing@iia-indonesia.org